Faith is a very personal and important part of our lives. As such we would love to share it with the people we care about. We've heard and seen Catholics inviting non-Catholics to share in their important ceremonies and events such as Baptism, Sunday Mass and First Communion.
Similarly, Catholics have been invited by their non-Catholic friends to attend their events and services. However, the question is, can a Catholic go to a non-denominational church? Well, this article looks at that and provides insights on key issues around non-denominational worship.
What Are Non-Denominational Churches?
Before we start, we need to define what non-denominational churches are. Non-denominational churches and by extension Christianity refers to a section of churches that distance themselves from creedalism and confessionalism.
They are typically founded by pastors who have very little if any affiliation to the historic denominations as we know them.  The lack of affiliation may be out of choice or due to fact that they separated at some point in the course of history.
The Criticism Behind Non-Denominational Churches
Before you decide whether attending a non-denominational church is right or wrong for a Catholic faithful, you need to look at the criticism behind it. Religion scholars have argued that non-denominationalism uses a veneer of Christian unity to hide the spiritual issues and fundamental theological ideals that led to the splitting of the church into denominations.
Instead of concentrating on the spiritualism and culture of its churchgoers, non-denominationalism advocated for general moralism. The danger with this approach to Christianity is that lowers the emphasis on scriptures which in turn leads to reduced religious literacy. You are more likely to get into inter-religious conflict by following non-denominational teachings.
Individualism has been seen to the driving force behind these non-denominational churches. Young adults and millennials make most worshippers in these churches.
What Is Different Between catholic And Non-Denominational Churches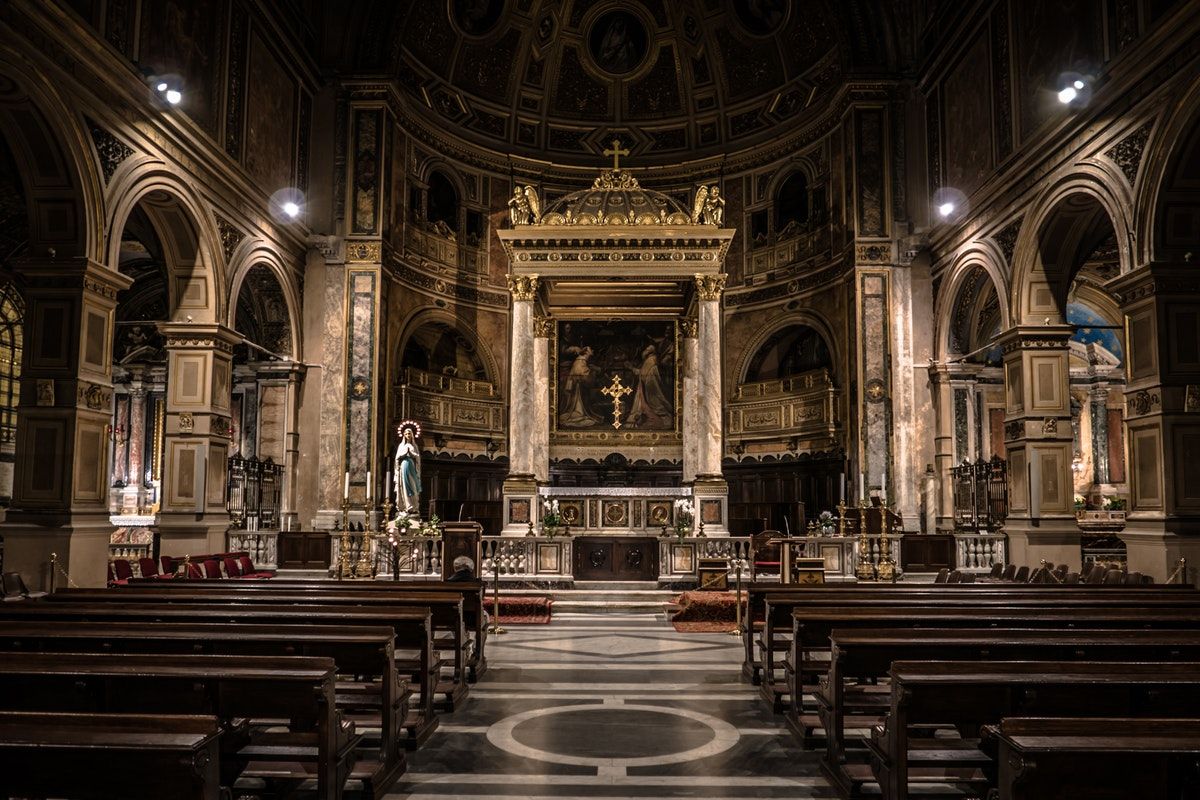 There are some significant differences between Catholic Christianity and non-denominational Christianity. Here are some of them.
Jesus And Salvation
While both advocate for the centrality of Christ in salvation, non-denominational Christians view salvation as a moment in time. It is a one-off intellectual decision to follow Jesus. Once the salvation moment happens, non-denominationalists believe that it can never be lost.
That is not the case with Catholicism. Here the belief is on continuous salvation-you have been saved, you are being saved, and there is the hope of salvation.  The power of faith working through love is the underlying force.
Unlike in non-denominational churches where baptism is a mere symbol, Catholics believe in the significance of baptism as described in scriptures- John 3:5 "Jesus answered,
"Very truly I tell you, no one can enter the kingdom of God unless they are born of water and the Spirit."
Communion
Non-denominational churches as well as catholic churches celebrate communion. However, they do it differently. In catholic, communion is part of the community of congregation, something the church emphasizes and holds so dear.
In catholic teaching, receiving the Eucharist is equivalent to receiving the soul, divinity, body, and blood of Jesus. On the contrary, the non-denominational churches consider holy communion as being just a mere symbol which they take infrequently. To them, holy communion is about the people and not Christ.
Therefore, at every Mass, this is what you forgo by not partaking the holy communion or by skipping it because you are attending a non-denominational church.
Authority
Catholic Church has a set of teachings passed down over the years that have been proclaimed as the Truth and safeguarded by the power of the Holy Spirit. These are the teachings that guide their conduct and order their actions. When it comes to non-denominational churches, the Bible is expectedly the central book of instruction, but that is not all. Pastors teachings are also held to be true.
Now the problem is that any disagreement with the teachings of a certain pastor or reverend, or bishop could mean factions and splits in the Church.
Should You Attend Non-Denominational Churches
Well, having considered the above issues, you could make your decision on whether you should attend or not. However, from the standpoint of catholic teachings, it is not a sin to attend a non-denominational church.
The problem is that you will not fulfill your Sunday obligation. Besides, taking the bread and juice or wine served in non-denominational churches is considered an apostasy against the Catholic faith.
You may not realize it but the more you attend non-denominational churches, the more you drift away from the true faith and salvation. Eventually, you will become a shallow Christian with little knowledge of Christian history and teachings.
Conclusion
Think of the strong and sound teachings of the Christian faith as brought out by the Catholic denomination. That may be the best you can get and if you think going to a non-denominational church will fill the void, you may be completely lost.
Your local Catholic church may look boring or not as majestic in its appearance and vigor of worship, but therein lies sound teachings of true Christianity.