The most common way to pray is speaking words out loud. But what if you find silent prayer more calming or you are in a situation where you can't pray vocally? Can you pray in your head and will those prayers be just as powerful as the ones you voice loudly?
Can God Hear You In Your Head?
This is the question it boils down to. Do we have to speak out for God to hear our prayers?
The answer is an emphatic no. Whether you pray in your head or voice your prayers, God will hear you. In fact, God already knows what's in your heart before you pray.
Here's a passage from Hebrews 4:12.
For the word of God is alive and active. Sharper than any double-edged sword, it penetrates even to dividing soul and spirit, joints and marrow; it judges the thoughts and attitudes of the heart.
And here's Psalms 139.
(1-2) You have searched me, Lord, and you know me. You know when I sit and when I rise; you perceive my thoughts from afar. (4) Before a word is on my tongue you, Lord, know it completely.
If God already discerns what's in your heart, including your desires, praise, and gratitude, then He can certainly hear your silent prayers.
Are Loud Prayers More Powerful?
The power of prayer is not based on volume; it depends on your faith. Here's Hebrews 11:6.
And without faith it is impossible to please God, because anyone who comes to him must believe that he exists and that he rewards those who earnestly seek him.
And in Matthew 21:22 Jesus says:
If you believe, you will receive whatever you ask for in prayer.
How loud or silent your prayers are is not what matters; it's your faith in God.
Do you believe in his grace and righteousness? Do you believe He will forgive your sins if you repent? Do you believe He will provide for your needs?
If praying out loud feels better for you, go ahead and do it. If praying in your mind makes you feel closer to God or it's the only kind of prayer you can make, God will be just as attentive to your words.
Practically speaking, it's not always possible to pray out loud.
If you are in the office, jogging, shopping or in public, it's better to pray in your mind. In fact, it makes it easier to be in a constant state of prayer, always giving praise and thanks to God as instructed in Philippians 4:6.
Do not be anxious about anything, but in every situation, by prayer and petition, with thanksgiving, present your requests to God.
Sometimes, you can be overcome by emotion – grief, sadness, joy and so on – that it becomes impossible to speak. In such situations, you can cry out to God in your mind and He'll hear you.
Remember the story of Hannah in 1 Samuel from verse 12. Hannas was distraught because she was barren. In her anguish, she prayed silently and the Lord heard her and gave her a son.
(12-13) As she kept on praying to the Lord, Eli observed her mouth. Hannah was praying in her heart, and her lips were moving but her voice was not heard.
How To Pray In Your Head?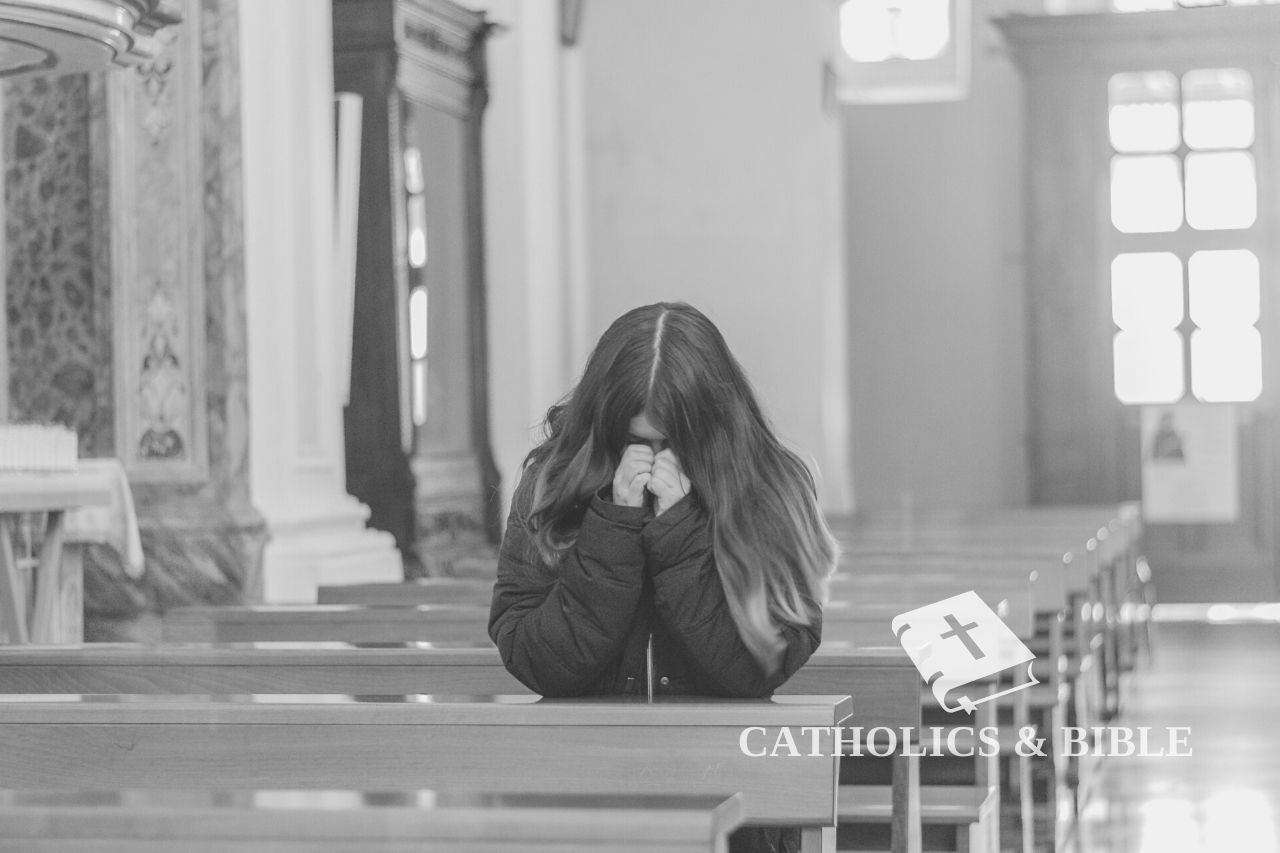 There is no formula for praying in your head. The only requirement is faith.
To better focus your mind, you may want to find a quiet place, close your eyes and talk to God in your mind. 
With praise and thanksgiving, present your petitions to Him. Don't forget to ask for forgiveness, for we are constantly sinning.
You can also speak to God continually through the day wherever you are. It's spiritual meditation.
Feel free to speak to God when on the bus, on the train, while walking in the streets or working in the farm. Talk to God when eating, when taking a shower, or spending time with your kids.
And it doesn't always have to be asking God for stuff. As you present your needs, also spend time thanking God and giving him praise.
When Are Loud Prayers Better?
Loud prayers are better when you are in fellowship with other believers. It would be ridiculous for the priest to say prayers silently during mass.
Speaking out loud allows the congregation to be involved in the process and respond.
The same is true when you are with fellow believers. Praying out loud brings everyone closer spiritually and strengthens the fellowship.
Everyone will also feel encouraged and uplifted by the prayer.
Here are other situations when praying loudly may be better than praying in your head.
If you feel closer to God when you praise and thank Him with your lips, then pray loudly. Praying and singing loudly can be an expression of passion and gratitude to God. In emotional moments, you may also find speaking out loud lightens your heart more than praying in your head.
If you are afraid of being distracted. One of the good things about loud prayer is that it forces your body and mind to focus, so you are less likely to get distracted by your environment or thoughts.
When you are tired or sleepy. Silent prayer can be too relaxing to the point that you fall asleep in the middle of prayer. It's best to spend a few minutes praying loudly, then go to sleep.
When it comes to loud prayer, it is important to do it sincerely without aiming to please others. If your goal is to show other people you can pray, Jesus says you are a hypocrite in Matthew 6:5. 
Here's what you should do (Mathew 6:6):
But when you pray, go into your room, close the door and pray to your Father, who is unseen. Then your Father, who sees what is done in secret, will reward you.
Jesus also says that you should not 'keep on babbling like pagans'. In Verse 8, it continues, "for your Father knows what you need before you ask him."