Holy Water is not such a mystery as some may believe. It is an ecclesiastical source that has the ability to cleanse, purify, heal, and cure. Holy Water benefits are reaped by millions around the globe, from entering a place of prayer to your home, to pilgrims to holy shrines.
Holy Water can be made holy by any ordained Catholic priest or by the apparition of a holy saint. You can have water from your home blessed or buy it from your local church. It is very common practice to have a front in your home to bless all those who enter and leave.
Bring holy water benefits into your daily life.
"I pray that out of his glorious riches he may strengthen you with power through his Spirit in your inner being" Ephesians 3:16
ONE: Holy water is an essential component during a baptism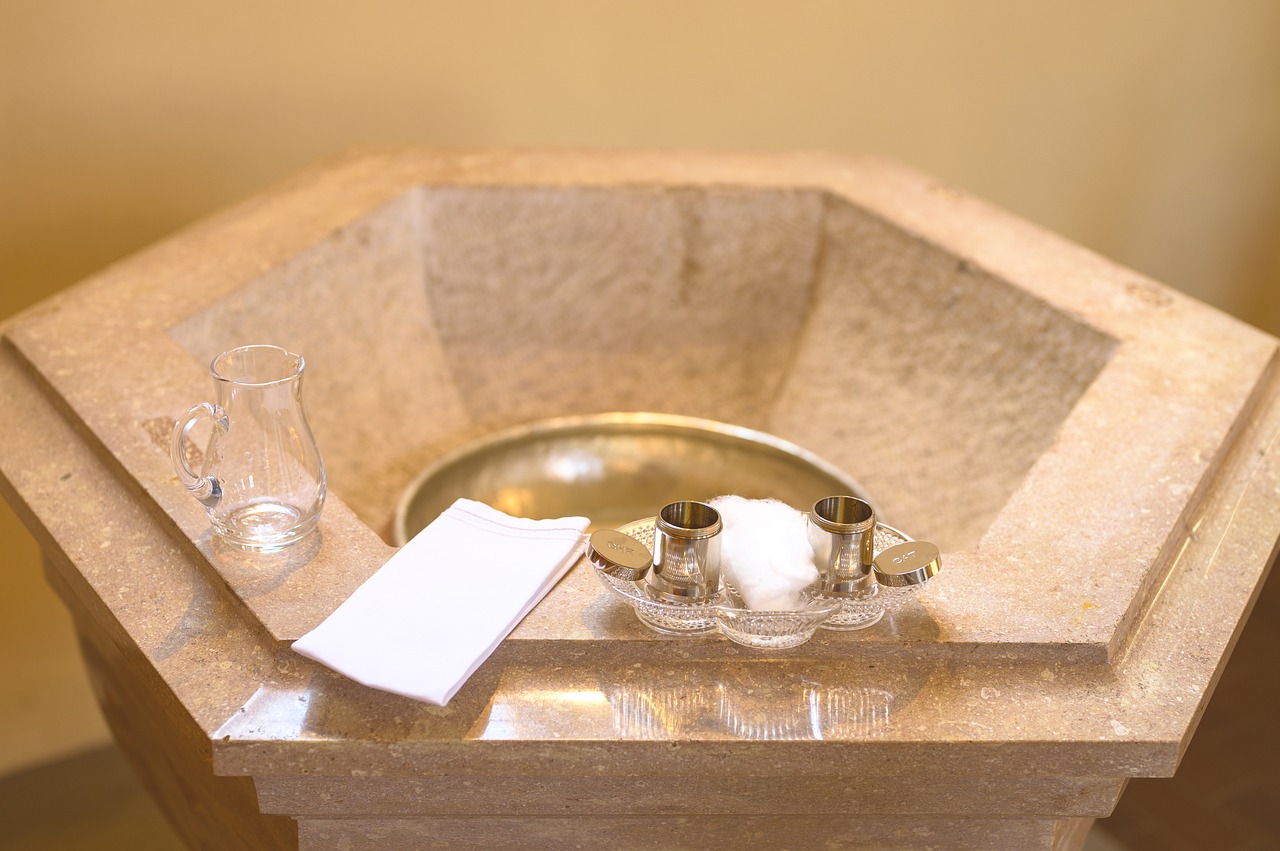 Holy water has been used since 400AD to help people purify their souls. The blessed water is consecrated by a priest and holds within the almighty power to rid babies and people of original sin.
People who are not baptized don't have the ability to go to heaven. Parents often choose to baptize their babies a short few months after birth.
Adults can also choose to be baptized if they convert to Catholicism. They may have never been introduced to religion or have been called by God from another religion.
Original sin is the sin all Man is born with. It is synonymous with Adam and Eve eating the forbidden fruit – God's first man and woman.
It is empowering and encouraging to know you will join a community of people who hold themselves and each other accountable for actions taken by all of humankind.
Charity is practiced by Catholic priests and nuns the world over, especially prevalent in third world countries, rife with poverty and disease.
Anointing someone with Holy Water secures their passage to Heaven if they continue life without sin.
TWO: How does it become holy?
Holy Water is water sanctified by a priest. To sanctify something is to make it Holy, to differentiate it ecclesiastically.
Priests have all received a calling from God. they are God's chosen servants to help spread and keep the Catholic faith. Priests have sworn to a life of celibacy, choosing God's work to be their priority.
As a priest is being ordained their hands are blessed and consecrated to perform further blessings and consecrations themselves. This is enacted by a Bishop. 
Many churches have holy water for sale. As priests generally depend on their community for a livelihood selling holy water bottles helps a lot.
However, there are locations throughout the world where the Virgin Mary has appeared and the water is regarded as having the same ecclesiastical properties of Holy Water to heal and to purify. One such place is Lourdes in France.
The Virgin Mary appeared to St. Bernadette (canonized 8 December 1933) eighteen times throughout a short period. The vision directed her to build a chapel for the processions and to drink the water that is healing.
Lourdes has thousands of pilgrimages every year and the holy water from the spring is available to drink and bathe in, free of charge. Visit this website for more information on Lourdes.
THREE: Compels evil spirits
Holy Water not only heals people but is able to sanctify places of worship and compel evil spirits from homes and other buildings. It makes sense that churches are blessed but people can also have their homes blessed to ward off evil spirits.
It is a very common practice in Catholic homes to invite a priest over to bless it. With a newly built home or one you relocated to, it can be very comforting knowing that God is amongst you in a strange location.
"In my Father's house are many rooms" John 14:2
It is also very common to affix a font to the wall behind the front door. Reap all the Holy Water benefits from the comfort of your own home. Family and friends can pass through your threshold with a holy blessing.
Holy water is also used during an exorcism to expel evil spirits. If a simple blessing doesn't work then an exorcism is performed on a house or person.
Only ordained priests with permission from their local bishop are allowed to perform exorcisms on other peoples. They are not all as gruesome and terrifying as in the popular Exorcist horror movie.
FOUR: Holy Water cannot be diluted
Well, there is some mathematical ratio to be considered. In general, Holy Water can keep its sacred properties if not more than 49% of the holy water is diluted.
Why dilute the water? It happens often during baptisms that the water in the font is reduced. If there is no other Holy Water on hand, regular water can be added.
As long as the 51/49% ratio is respected you can continue your Christian celebrations at ease.
FIVE: Drink with caution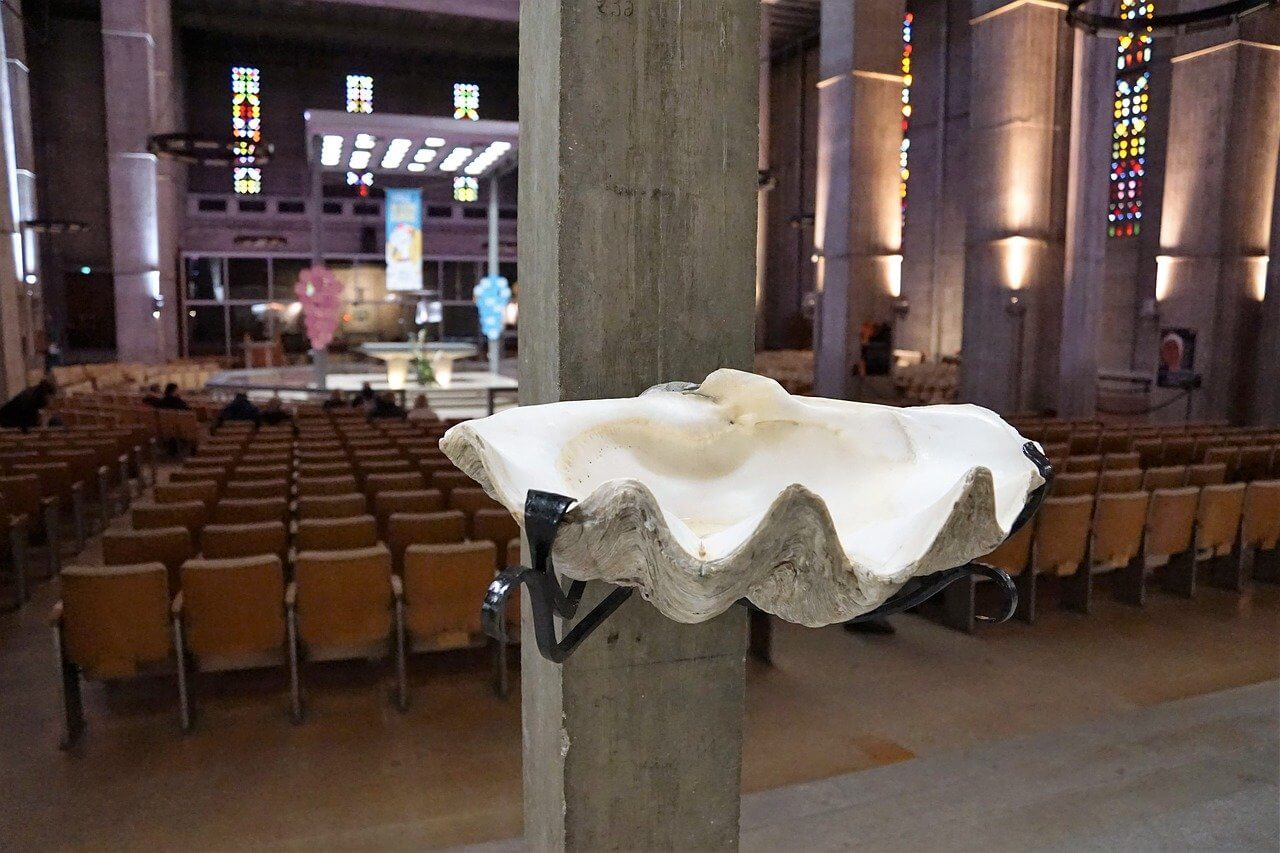 Consuming Holy Water is not going to help you any faster. It won't purify you of your sins any much more than being anointed with it.
In fact, drinking congregational Holy Water can be dangerous. There is no need to go into detail but if more than fifty people are dipping their fingers into the same font you can imagine well enough how it can become bad to drink.
Anyhow, it is not necessary to drink it to reap the benefits. Blessing yourself with the sign of the cross (Holy trinity) with the Holy Water, or a priest sprinkling it on you during prayer is perfectly sufficient.
SIX: Holy Water cures and heals
As we have seen already, Holy Water benefits comprise cleansing and purifying, but it also has healing properties.
Holy apparitions, or Marian apparitions, are frequent around the globe. It is traditionally the appearance of Our Lady Holy Mary, Mother of Jesus. The ground where she appears becomes consecrated.
Often there is a water spring from which henceforth flows holy water. Pilgrims flock to these locations and boast of being cured of diseases and disabilities.
One such place is Lourdes, which we touched on above. Other notable places include the Tsadkane monastery in Ethiopia and Knock in Ireland.
Lame limbs, blindness, and ticks have been cured, along with cancer, HIV, and other terminal illnesses. If you do wish to go on a pilgrimage to a holy shrine then ensure that it is 'Vatican Approved' to save your time and energy.