Thinking to become a priest? Do you know how long does it take to become a Catholic priest? The basic timeline for ordination into priesthood is 6 to 8 years. You must have some skills, attributes and characters that distinguish you.
It is necessary to complete the following four steps to become a Catholic priest. Read on to learn more.
4 Steps To Become A Catholic Priest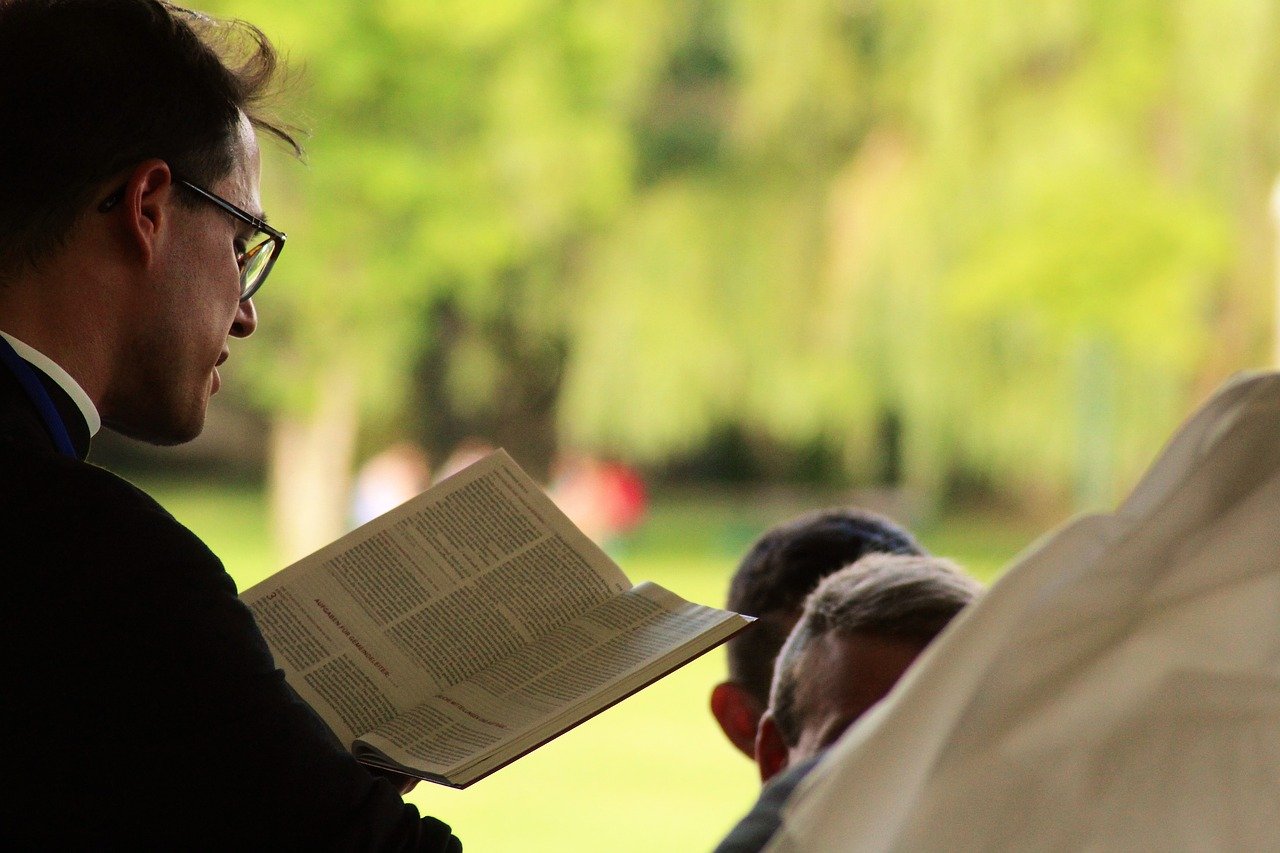 Step One: Discernment
Discernment is the ability to think biblically about all aspects of life. It means being capable of distinguishing good from evil.
1 Kings 3:9
"so give your servant a discerning heart to govern your people and to distinguish between right and wrong. For who is able to govern this great people of yours?"
This step focuses heavily on building character. It is the basis of a solid foundation in priesthood.
There isn't a universal timeline for this step. It entirely depends on your willingness to commit. The scriptures offer excellent guidance for discernment. Other ways to develop discernment include;
Attending Mass regularly and receiving sacrament
Deep reflection and daily prayer
Serving the less fortunate and community at large
Consulting with church elders, trusted friends and mentors
When you feel ready to heed to your call, it would be the right time to proceed with application.
Step Two: Application
When applying, the first stage is to meet some precise specifications according to The Code of Canon Law (CLC 1026 – 1032)
Freedom: No one should be compelled to the priesthood, nor should someone suitable be turned away.
Formation: Aspirants should be formed by careful preparation in accordance with the law.
Knowledge: A superior must ensure that the aspirant is properly instructed concerning the priesthood and its obligations.
Faith and Morals: An aspirant must ensure he has sound faith, is motivated by the right intention, and endowed with the requisite knowledge. He must also have a good reputation, moral integrity, proven virtue, and the other physical and psychological qualities appropriate to exercise the priesthood. For example, if you are a divorced man, this may prove to be a large obstacle.
Age and Maturity: Candidates to be ordained priests must have completed their twenty-fifth year of age and possess sufficient maturity.
Other application requirements include;
As an applicant, you must be a baptized and confirmed catholic male.
You must have at least completed high school or be within a year of completing high school.
You will then fill out the appropriate application forms, submit sacramental certificates and academic transcripts, and provide references.
You will have several interviews with Church elders
Psychological testing and screening might be necessary in some cases
Your application will be reviewed and accepted, rejected or deferred to a later date.
Step Three: Seminary Formation
If your application is approved, you can now join the seminary.
Seminary life basically entails academic studies, spiritual growth, hands on experience in ministering as well as community service.
If you are joining the seminary immediately after high school, or you do not have a college degree, you will be required to complete an initial four-year course. Courses majorly revolve around philosophy and theology.
If you have a college degree, you can take a shorter course in fulfillment of the philosophical requirements of the seminary formation.
The seminary board ensures that you meet all the educational standards before you are ordained.
Step Four: Ordination
After completing residency in the seminary, you can now be ordained. You will be ordained as a transitional deacon for one year before being priest.
Exodus 28:41
"After you put these garments on your brother Aaron and his sons, anoint them, ordain them, and consecrate them so that they may serve Me as priests".
Exodus 40: 15
"Anoint them just as you anointed their father, so that they may also serve me as priests. Their anointing will serve to inaugurate a permanent priesthood for them throughout their generations".
Ordination Process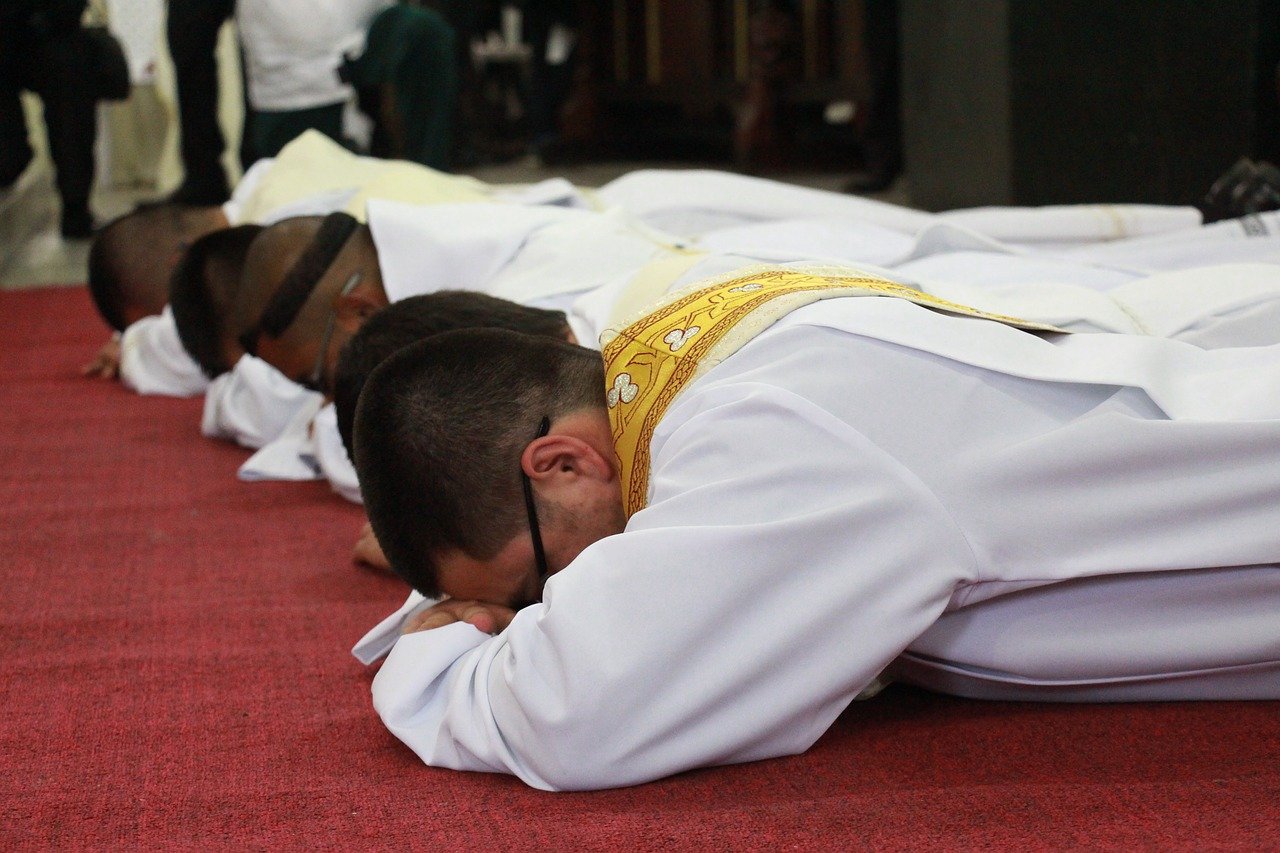 You make solemn promises before God and to the bishop.
While lying face down on the ground, as a token of humility, submission, and adoration, the Litany of Saints is sung.
The bishop and all the priests present then lay hands on your head. The bishop prays the prayer of consecration.
You are then vested in the priestly Mass attires.
Your hands, which will offer the sacrifice of the Mass, are then anointed to be Sacred for their sacred duty.
The bishop will then give you bread and wine.
He also offers greeting of peace as the other priests welcome you into the Sacred Priesthood.
Exodus 19:6
"and you will be to me a kingdom of priests and a holy nation.' These are the words that you will speak to the Israelites."
You are now ready to serve fully and celebrate sacraments.