Funerals whether catholic or not, are considered sober occasions which deserve respect in both the atmosphere (read our article on significance of incense) and the attire. The Catholic Church has a tradition that guides the conduct of affairs including dressing in funerals. So what do you wear to a Catholic funeral?
Generally, funeral attire should be dark colored with minimal accessories. It is also normal for families to have their own choice color that may be different from the conventional etiquette.
The Right Type Of Funeral Clothing
Traditionally, funeral clothes come in dark tones. However, you may also find others wearing navy blue or dark grey shades to catholic funerals. In case you decide not to wear black, the color you choose should be dark and somber.
Try to avoid bright colors such as blues, reds, and yellows. These are considered disrespectful or offensive. In some cultures, within the Catholic community, red is considered a sign of celebration and, therefore, inappropriate as funeral attire.
Unless clearly specified, always strive for formality. Think of dark grey, black, or navy suits. For dress pants and ties, ensure they are in dark shades. For women, dress pants and dark-colored blouses can be a good option.
To prevent showing a lot of skin, be conscious of sleeve length. Outfits with short sleeves or even sleeveless ones cannot make the cut for a Catholic funeral. If you must wear a sleeveless black dress, ensure you get a shawl or shrug to cover up your arms.
Patterned clothes are not necessarily inappropriate unless they look too flashy. If you have a dark-colored striped shirt or a floral-patterned skirt, you can still use it for a funeral service.
Always ensure that you respect the wishes of the immediate family especially when it comes to the choice of pattern and dress.
Getting Your Accessories Right
Apart from the main clothing, catholic conventions give general directions on accessories such as shoes, tie, makeup, jewelry among others.
The shoes should be comfortable and formal. Remember, that in funerals, you will do a lot of standing and walking hence high-heeled shoes may not be comfortable for you. Flats or black dress shoes can be a good option.
If you decide to wear a tie, get a solid-colored one without a pattern. Darker colors such as navy blue, grey, or dark green can blend well with most clothing. For makeup, ensure it is minimal and less flashy. Aim for a light covering of foundation and some small amount of blush.
You don't need jewelry when going for a funeral, but if you must wear, stick to the classics. Instead of wearing a bright clunky necklace, choose a string of pearls instead.
Final Words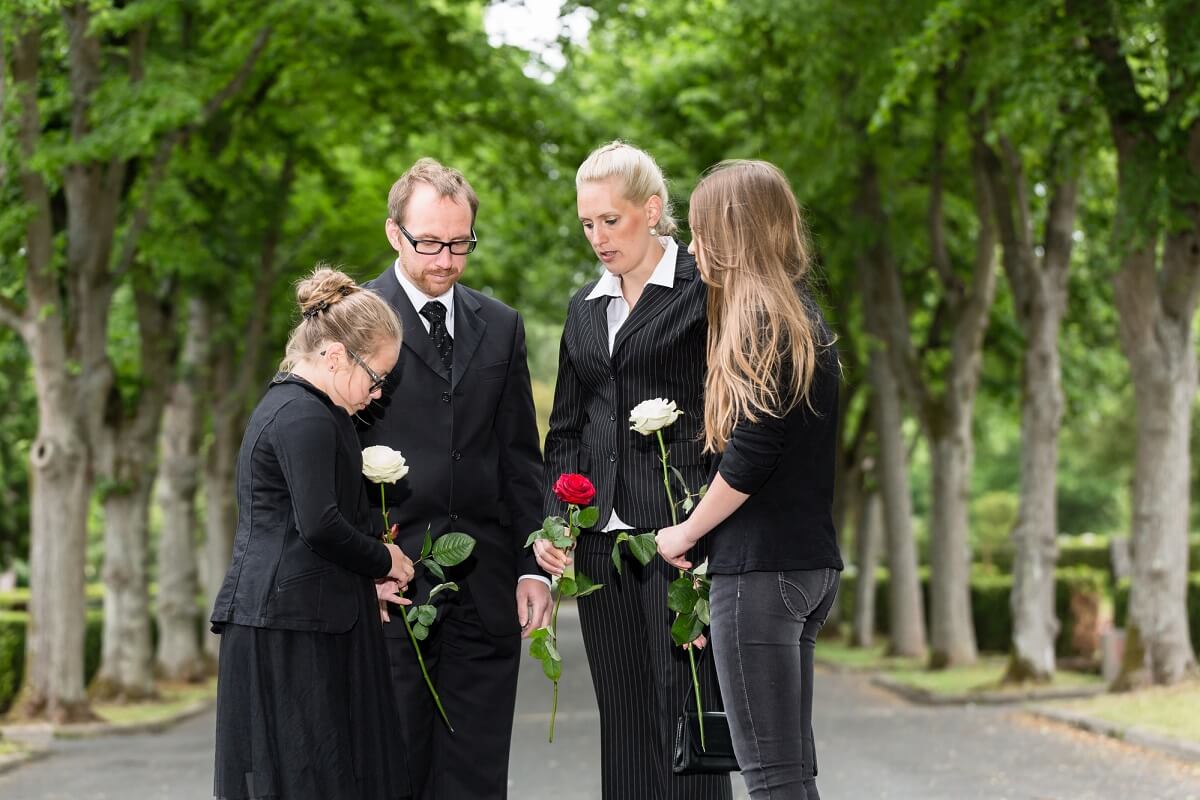 Other than the above factors, ensure that you consider the cultural customs underlying the Catholic community in question. Depending on the time of the year, keeping the weather in mind is also a crucial factor to avoid being inconvenienced midway through the service.
In certain circumstances, the deceased could have had their wishes on how people should dress for their funerals. Ensure you toe the line to avoid sticking out as the unconventional one.