In most cases, what you normally wear to mass is perfectly suitable for a Catholic baptism, as long as it is modest and the right amount of formal. Feel free to dress up a little bit if it's a special baptism such as your child's christening.
What Do You Wear to Baptism As A Guest?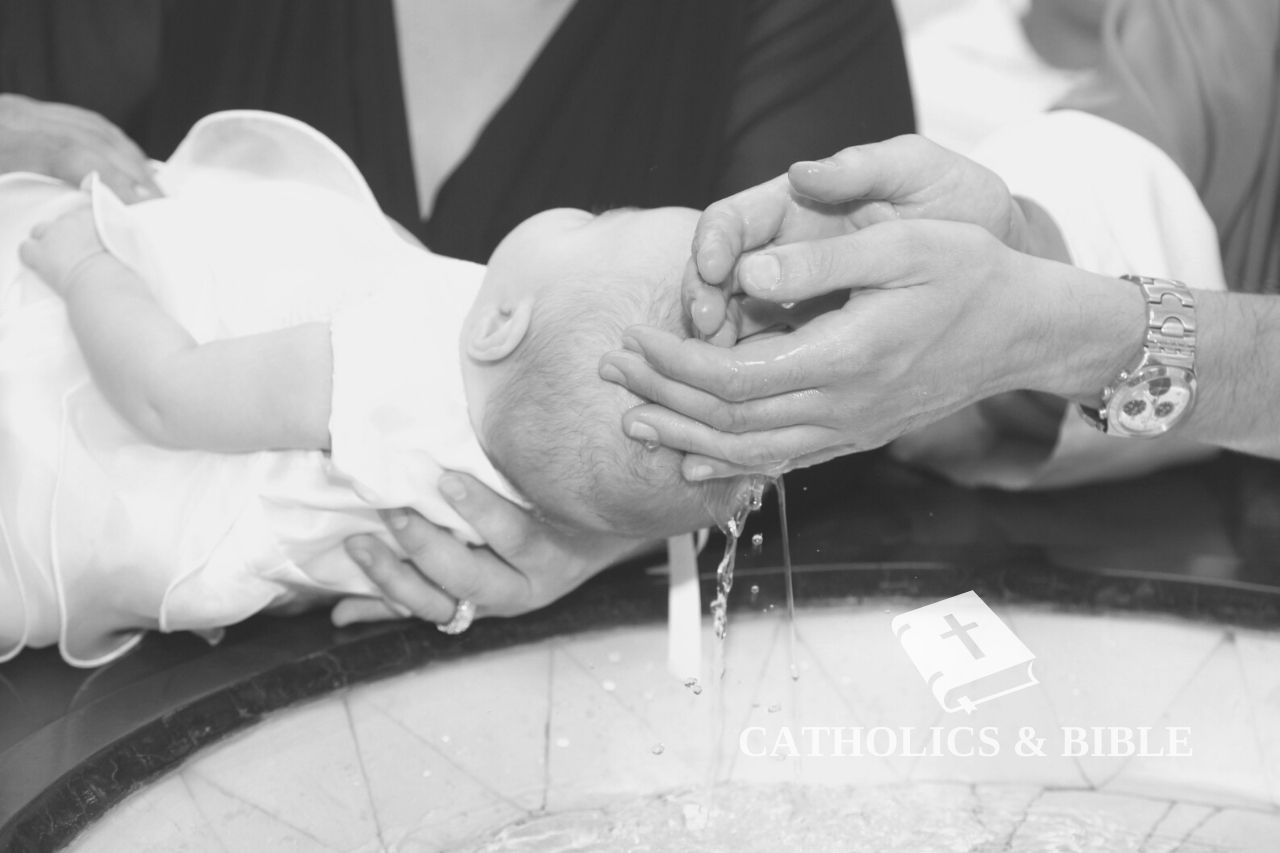 The Catholic Church doesn't have a specific dress code for baptism. The Bible also doesn't mention anything about what to wear to a baptism.
The Catechism of the Catholic Church says you should dress respectfully for communion. And since baptism, like communion, is one of the seven sacraments, it's safe to assume that the same guidance applies.
Here's the specific wording in CCC 1387.
To prepare for worthy reception of this sacrament, the faithful should observe the fast required in their Church. Bodily demeanor (gestures, clothing) ought to convey the respect, solemnity, and joy of this moment when Christ becomes our guest.
The unspoken dress code for baptism is decent, respectful, and smart. This corresponds to a smart casual style.
You don't want to be too formal nor should you go casual. Even if you are decent, you'll stand out and distract from the event.
Of course, there are exceptions.
There may be a specified dress code for the baptism or christening.
If you are attending as a parent, grand parent, or a godparent, you may want to dress up a bit more formal than everyone else.
It's also important that you be comfortable. Dress according to the time of day and weather when the baptism will take place.
What Should A Male Guest Wear To A Catholic Baptism?
You cannot go wrong with a pair of dress pants and a button down shirt. If you expect it to be chilly, add on a blazer.
You can wear a tie or leave it off depending on how formal you want to be. The good thing about a tie is that you can wear it during the formal part of the ceremony and take it off during the party afterwards.
Don't be afraid to add some color. This is a joyous event, after all. Instead of the usual black suit, try neutral colored pants like brown or tan. You can also pair dark pants with a lighter colored shirt.
For more casual ceremonies, you can wear a polo shirt or V-neck t-shirt with dress pants. Be sure to add a blazer on top to add a bit of formality.
Unless the baptism invitation expressly requires a casual dress code, stay away from jeans, chinos, khaki and other casual wear. Your clothing should express some solemnity.
As for footwear, formal or smart casual shoes are best. Examples include loafers, Derbies, Oxfords, and brogues. Avoid anything too casual like boots, sandals, sneakers, and flipflops.
What Should A Female Guest Wear To A Catholic Baptism?
Similar to male guests, a smart casual style is the best outfit for a female guest. It should be modest, meaning no revealing or tight clothing.
Most women opt for midi or maxi dresses. They are comfortable and smart.
It's alright to wear pants to a Catholic baptism, but they should not be jeans, sweatpants, or anything tight. Loosely fitting trousers pair well with a blouse and a blazer.
If you are close to the person being baptized (e.g. parent or grandparent) you can dress more formally in a dress suit or pants suit.
Patterns and colors are great to wear to a baptism. Nothing too loud, of course. But colors like pink, blue, and yellow bring joy and brightness to the occasion. Floral, polka dot and other types of prints are also great to wear to a baptism.
When it comes to jewelry, be concervative. Avoid anything too glittery and showy. You may want to cut down your accessories to just one or two pieces that complement your style.
As for shoes, there are plenty of smart casual styles to choose from. Just make sure they are comfortable to stand and walk in. Ideas include flat pumps, moderate high heels, smart slip ons, loafers and dress shoes.
What Should Kids Wear To A Baptism?
If your child is going to a baptism as a guest, dress them in their Sunday best clothes. Any outfit they would wear to church is good for a baptism.
Boys can wear suits but a pair of pants and a polo also works fine. Add a jacket or cardigan on top if it'll be cold or drafty.
For girls, dresses or pants and a top are okay.
Avoid casual clothing like shorts, flip flops, and jeans.
Can You Wear White To A Catholic Baptism?
It's common for the person being baptized to wear white. So you may feel self-conscious also dressing in white when going as a guest.
Unlike weddings, it's okay to wear white to a baptism. It may actually be the best choice if you are a family member of the person being baptized. It blends perfectly into the occasion.
If you don't want to wear completely white, you can mix white with dark colors or wear off white.
Can You Wear Black To A Catholic Baptism?
The risk with wearing black to a baptism is that you may come across as too somber like it is a funeral.
Black is fine if the baptism has a formal dress code. But generally, brighter colors work best for baptism.
If you want to wear black, you can combine it with a brighter color to balance it out. For example, men can wear dark pants, a dark blazer and a light colored shirt like pink or yellow.
Can You Wear Jeans To A Catholic Baptism?
Jeans are generally seen as too casual for a baptism. To be safe, avoid wearing jeans.
That said, there are some styles of jeans that look pretty good and can be worn to a baptism. For women, a well fitting pair of jeans (not tight and not baggy) goes well with a more formal blouse and blazer.
Men can also pair jeans with a button down shirt and blazer.
Avoid any style that's too casual like ripped, baggy, or skin tight jeans.
Are you planning to go to other Catholic ceremonies? Here is my guide on what to wear to a Catholic wedding.